Rush Limbaugh, the talk radio host who ripped into liberals and laid waste to political correctness with a merry brand of malice that made him one of the most powerful voices on the American right, influencing the rightward push of conservatism and the rise of Donald Trump, died Wednesday. He was 70.
Limbaugh said a year ago that he had lung cancer. His death was announced on his show by his wife, Kathryn.
Unflinchingly conservative, wildly partisan, bombastically self-promoting and larger than life, Limbaugh galvanized listeners for more than 30 years with his talent for vituperation and sarcasm.
He called himself an entertainer, but his rants during his three-hour weekday radio show broadcast on nearly 600 U.S. stations shaped the national political conversation, swaying ordinary Republicans and the direction of their party.
Blessed with a made-for-broadcasting voice, he delivered his opinions with such certainty that his followers, or "Ditto-heads," as he dubbed them, took his words as sacred truth.
"In my heart and soul, I know I have become the intellectual engine of the conservative movement," Limbaugh, with typical immodesty, told author Zev Chafets in the 2010 book "Rush Limbaugh: An Army of One."
Forbes magazine estimated his 2018 income at $84 million, ranking him behind only Howard Stern among radio personalities.
MORE STORIES:
Limbaugh took as a badge of honor the title "most dangerous man in America." He said he was the "truth detector," the "doctor of democracy," a "lover of mankind," a "harmless, lovable little fuzz ball" and an "all-around good guy." He claimed he had "talent on loan from God."
Long before Trump's rise in politics, Limbaugh was pinning insulting names on his enemies and raging against the mainstream media, accusing it of feeding the public lies. He called Democrats and others on the left communists, wackos, feminazis, liberal extremists, homosexual slurs and radicals.
When actor Michael J. Fox, suffering from Parkinson's disease, appeared in a Democratic campaign commercial, Limbaugh mocked his tremors. When a Washington advocate for the homeless killed himself, he cracked jokes. As the AIDS epidemic raged in the 1980s, he made the dying a punchline. He called 12-year-old Chelsea Clinton a dog.
He suggested that the Democrats' stand on reproductive rights would have led to the abortion of Jesus Christ. When a woman accused Duke University lacrosse players of rape, he derided her as a "ho," and when a Georgetown University law student supported expanded contraceptive coverage, he dismissed her as a "slut." When Barack Obama was elected president in 2008, Limbaugh said: "I hope he fails."
He was frequently accused of bigotry and blatant racism for such antics as playing the song "Barack the Magic Negro" on his show. The lyrics, set to the tune of "Puff, the Magic Dragon," describe Obama as someone who "makes guilty whites feel good" and is "black, but not authentically."
Limbaugh often enunciated the Republican platform better and more entertainingly than any party leader, becoming a GOP kingmaker whose endorsement and friendship were sought. Polls consistently found he was regarded as the voice of the party.
His idol, Ronald Reagan, wrote a letter of praise that Limbaugh proudly read on the air in 1992: "You've become the number one voice for conservatism." In 1994, Limbaugh was so widely credited with the first Republican takeover of Congress in 40 years that the GOP made him an honorary member of the new class.
During the 2016 presidential primaries, Limbaugh said he realized early on that Trump would be the nominee, and he likened the candidate's deep connection with his supporters to his own. In a 2018 interview, he conceded Trump is rude but said that is because he is "fearless and willing to fight against the things that no Republican has been willing to fight against."
Trump, for his part, heaped praise on Limbaugh, and during last year's State of the Union speech, awarded the broadcaster the Presidential Medal of Freedom, the nation's highest civilian honor. (The former president's Mar-a-Lago estate is eight miles down the same Palm Beach boulevard as Limbaugh's $50 million beachfront expanse.) In honoring Limbaugh at the State of the Union, Trump called his friend "a special man beloved by millions."
Limbaugh influenced the likes of Sean Hannity, Glenn Beck, Bill O'Reilly and countless other conservative commentators who pushed the boundaries of what passes as acceptable public discourse.
His brand of blunt, no-gray-area debate spread to cable TV, town hall meetings, political rallies and Congress itself, emerging during the battles over health care and the ascent of the tea party movement.
"What he did was to bring a paranoia and really mean, nasty rhetoric and hyperpartisanship into the mainstream," said Martin Kaplan, a University of Southern California professor who is an expert on the intersection of politics and entertainment and a frequent critic of Limbaugh. "The kind of antagonism and vituperativeness that characterized him instantly became acceptable everywhere."
In one breathless segment in 1991, he railed against the homeless, AIDS patients, criticism of Christopher Columbus, aid to the Soviet Union, condoms in schools, animal rights advocates, multiculturalism and the social safety net.
His foes accused him of trafficking in half-truths, bias and outright lies — the very tactics he decried in others. Al Franken, the comedian and one-time senator, came out with a book in 1996 called "Rush Limbaugh Is a Big Fat Idiot and Other Observations."
In 2003, Limbaugh admitted an addiction to painkillers and went into rehab. Authorities opened an investigation into alleged "doctor shopping," saying he received up to 2,000 pills from four doctors over six months.
He ultimately reached a deal with prosecutors in which they agreed to drop the charge if he continued with drug treatment and paid $30,000 toward the cost of the investigation.
He lost his hearing around that time. He said it was from an autoimmune disorder, while his critics said hearing loss is a known side effect of painkiller abuse. He received cochlear implants, which restored his hearing and saved his career.
A portly, cigar-chomping, round-faced figure, Limbaugh was divorced three times, after marrying Roxy Maxine McNeely in 1977, Michelle Sixta in 1983 and Marta Fitzgerald in 1994. He married his fourth wife, the former Kathryn Rogers, in a lavish 2010 ceremony featuring Elton John. He had no children.
Rush Hudson Limbaugh III was born Jan. 12, 1951, in Cape Girardeau, Missouri. His mother was the former Mildred Armstrong, and his father, Rush Limbaugh Jr., was a lawyer.
Rusty, as the younger Limbaugh was known, was chubby and shy, with little interest in school but a passion for broadcasting. He would turn down the radio during St. Louis Cardinals baseball games, offering play-by-play, and gave running commentary during the evening news. By high school, he had snagged a radio job.
Limbaugh dropped out of Southeast Missouri State University for a string of DJ gigs, from his hometown, to McKeesport, Pennsylvania, to Pittsburgh and then Kansas City. Known as Rusty Sharpe and then Jeff Christie on the air, he mostly spun Top 40 hits and sprinkled in glimpses of his wit and conservatism.
"One of the early reasons radio interested me was that I thought it would make me popular," he once wrote.
But he didn't gain the following he craved and gave up on radio for several years, beginning in 1979, becoming promotions director for baseball's Kansas City Royals. He ultimately returned to broadcasting, again in Kansas City and then Sacramento, California.
It was there in the early 1980s that Limbaugh really garnered an audience, broadcasting shows dripping with sarcasm and bravado. The stage name was gone.
Limbaugh began broadcasting nationally in 1988 from WABC in New York. While his know-it-all commentary quickly gained traction, he was dismayed by his reception in the big city. He thought he would be welcomed by Peter Jennings, Tom Brokaw and Dan Rather.
"I came to New York," he wrote, "and I immediately became a nothing, a zero."
Ultimately, Limbaugh moved his radio show to Palm Beach and bought his massive estate. Talkers Magazine, which covers the industry, said Limbaugh had the nation's largest audience in 2019, with 15 million unique listeners each week.
"When Rush wants to talk to America, all he has to do is grab his microphone. He attracts more listeners with just his voice than the rest of us could ever imagine," Beck wrote in Time magazine in 2009. "He is simply on another level."
Limbaugh expounded on his world view in the best-selling books "The Way Things Ought to Be" and "See, I Told You So."
He had a late-night TV show in the 1990s that got decent ratings but lackluster advertising because of his divisive message. When he guest-hosted "The Pat Sajak Show" in 1990, audience members called him a Nazi and repeatedly shouted at him.
He was fired from a short-lived job as an NFL commentator on ESPN in 2003 after he said the media had made a star out of Philadelphia Eagles quarterback Donovan McNabb because it was "very desirous that a black quarterback do well." His racial remarks also derailed a 2009 bid to become one of the owners of the NFL's St. Louis Rams.
"Do you ever wake up in the middle of the night and just think to yourself, `I am just full of hot gas?'" David Letterman asked him in 1993 on "The Late Show."
"I am a servant of humanity," Limbaugh replied. "I am in the relentless pursuit of the truth. I actually sit back and think that I'm just so fortunate to have this opportunity to tell people what's really going on."
Decades Of Hate
A full accounting of Limbaugh's lies and exaggerations; his racism and his misogyny; his homophobia and his Islamophobia; and his sheer cruelty could fill books — and have — but even a cursory overview of his lowlights makes his prejudice clear.
In 2003, he was forced to resign from ESPN after stating that Philadelphia Eagles quarterback Donovan McNabb was only receiving praise because the media was "very desirous that a Black quarterback do well." In 2004, Limbaugh said the NBA should be renamed the T.B.A. —"the Thug Basketball Association." He then added: "Stop calling them teams. Call 'em gangs." He similarly whined that watching the NFL was like watching "a game between the Bloods and the Crips without any weapons."
Once, after arguing with a Black man who called into his show, he told the caller to "take that bone out of your nose and call me back." Another time, Limbaugh asked his audience, "Have you ever noticed how all composite pictures of wanted criminals resemble Jesse Jackson?" while discussing the Black civil rights activist and politician. Limbaugh once ludicrously asserted that "if any race of people should not have guilt about slavery, it's Caucasians." He invited a guest on air who sang "Barack, the Magic Negro" to the tune of "Puff, the Magic Dragon." In 2016, he read an essay on air that had been penned by a well-known white supremacist.
Limbaugh's radio career was also one long exercise in misogyny, perhaps best summed up by his thesis that "feminism was established so as to allow unattractive women easier access to the mainstream of society."
In one of his most infamous episodes, he called Georgetown University law student Sandra Fluke a "slut" and a "prostitute" in 2012 after she testified in Congress about the importance of women having access to birth control.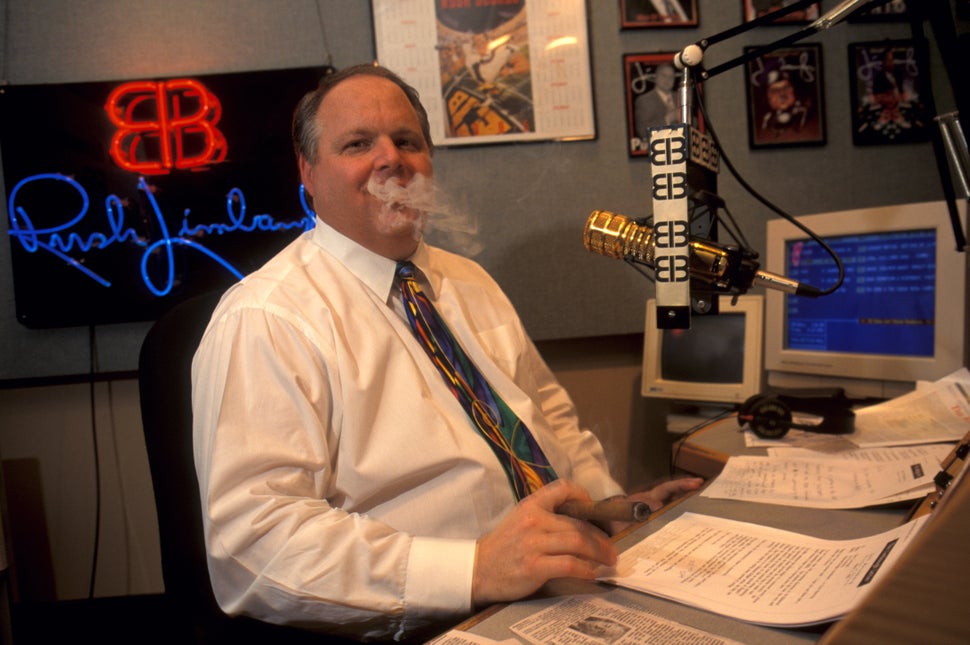 MARK PETERSON VIA GETTY IMAGESRush Limbaugh smoking a cigar while taping his radio show.
Nearly every marginalized group or minority bore the brunt of Limbaugh's bigotry. Once, while speaking about the genocide of America's indigenous peoples, Limbaugh said, "Holocaust 90 million Indians? Only 4 million left? They all have casinos, what's to complain about?"
Limbaugh frequently mirrored white nationalist talking points when discussing Latino immigrants, whom he described as lazy and dependent on the government. He called migrants at America's southern border an "invasion."
An opponent of marriage equality — which he suggested was "perverted" and "depraved" — Limbaugh argued in 2016 that legalizing gay marriage would lead to bestiality. "What happens if you love your dog?" he said. He once referred to transgender people as being mentally ill.
Throughout the 1980s and '90s, Limbaugh also frequently denigrated those who were HIV positive, saying the best way to stop the spread of the virus was to "not ask another man to bend over and make love at the exit point." He spoke out against federal funding to fight the virus too, calling it the "only federally protected virus."
His Father's Son
Limbaugh's journey to becoming one of America's foremost bigots began in Cape Girardeau, Missouri, where he was born to a prominent local political family on January 12, 1951. His father, a lawyer and Republican activist, would sternly lecture about politics in the home and rant against communism. Limbaugh later called his father "the smartest man I ever met."
At age 14, Limbaugh says his parents bought him a Remco Carevelle radio set, which enabled him to broadcast on AM channels within a few hundred square feet of his house. In high school, Limbaugh worked as a DJ at KGMO, a local radio station co-owned by his father.
"Even when I was a little boy, I dreamed of being on the radio," Limbaugh told biographer Ze'ev Chafetts. "In the mornings getting ready for school I'd hear the guy on the radio, and he just sounded free and happy, like he was having a wonderful time. That's what I wanted, too."
Subscribe to the Politics email.
From Washington to the campaign trail, get the latest politics news.
Limbaugh enrolled at Southeast Missouri State University but dropped out after a year to pursue a career in radio. Throughout the 1970s, he worked at different radio stations in Missouri and Pennsylvania but was often fired after clashing with management. He eventually landed a steady on-air gig in Sacramento, California, before getting hired to host his own show at WABC in New York, which remained his flagship station throughout much of his career.
As his fame rose, Limbaugh liked to explain his success by claiming he had "talent on loan from God," but it was a Reagan-era Federal Communications Commission policy shift that allowed Limbaugh to reach national infamy and create the mold for modern right-wing media stardom. In 1987, the FCC abolished the decades-old Fairness Doctrine which mandated that TV and radio broadcasters present both sides of controversial issues. This meant that stations were no longer required to feature opposing views, and instead radio hosts like Limbaugh could spend hours spouting off right-wing fallacies without challenge.
Decades before online extremists and pro-Trump trolls used memes and ironic detachment to make their far-right beliefs seem less repugnant, Limbaugh's employed the same strategy. He popularized cartoonish terms such as "Commie-Libs" and "Feminazi," while also claiming that abortion represented a "modern day Holocaust." He used mocking voices and affectations as he belittled women's rights, Black activists and the gay community. His persona as an absurd blowhard gave audiences an excuse to brush off Limbaugh's mainstreaming of far-right views as part of an act — just Rush being Rush, or El Rushbo, as he was often called.
Becoming A National Star
The end of the Fairness Doctrine allowed for Limbaugh's brand of unhinged right-wing rhetoric and shock jock persona to become a media phenomenon. By 1990, his nationally syndicated show aired on 300 stations ? a number that more than doubled over the next four years.
Limbaugh's rise turned him into a ubiquitous cultural figure in the 1990s. Limbaugh's voice echoed for hours a day on syndicated radio stations around the country; he appeared on magazine covers and in newspaper profiles. His success made him into a curiosity for the mainstream media, but little of the coverage properly grappled with what Limbaugh was doing to radicalize his listeners.
As his radio audience grew, Limbaugh got his own half-hour television show on Fox in 1992 and created a prototype for prime time opinion shows hosted by right wing pundits like Sean Hannity and Tucker Carlson. The show's executive producer was Limbaugh's longtime friend Roger Ailes, who would go on to launch Fox News in 1996 and run it for two decades until he was fired for widespread sexual harassment.
Limbaugh's political influence made him beloved among Republican Party elites. When the GOP won the House for the first time in 40 years in 1994, Republicans called him the "majority maker." At then-House Speaker Newt Gingrich's victory party, they sold "Rush Limbaugh for President!" T-shirts.
But Limbaugh never fully tied his fate to any one politician, always staying focused on his own success above all else. "I don't define my success by who wins elections, because politicians are going to come and go, and I'm going to be around as long as I choose to be," Limbaugh told Time Magazine in 2008.
Like any successful right wing media star, Limbaugh had a financial angle behind his vitriol and an appetite to center himself in controversies. He turned his infamy into extreme wealth: In 2008, he signed an an eight-year deal for his show worth around $400 million. He bought a private jet and a fleet of luxury cars to usher him from place to place.
"I wanted to be the reason people listened," Limbaugh told The New York Times in 1990. "That's how you pad your pocket."
While he claimed to represent the views of the average American, Limbaugh lived for years as a caricature of an East Coast elite in his luxury condo overlooking Central Park in New York City. He sold the property in 2010 for $11.5 million, moving primarily to a sprawling mansion in Palm Beach, Florida, where he lived until his death.
Meanwhile, Limbaugh used his platform to condemn policies designed to actually help working class Americans. He fervently opposed the expansion of public health care and said an Obama-era health insurance program for low-income children "ought to die." He condemned taxes against the ultra-rich, such as himself, and fled New York after the proposal of increased taxes on millionaires.
In 2006, Limbaugh — despite once saying that all drug addicts should be convicted and "sent up the river" — struck a plea deal with prosecutors in Florida after being charged with prescription fraud. Limbaugh, who admitted to being an oxycodone addict, was accused of "doctor shopping," the act of deliberately deceiving physicians in order to receive multiple prescriptions. Although Limbaugh had previously told his listeners that "too many whites are getting away with drug use" and should all be sent to prison, Limbaugh avoided time behind bars himself, paying a $30,000 fine and agreeing to stay clean.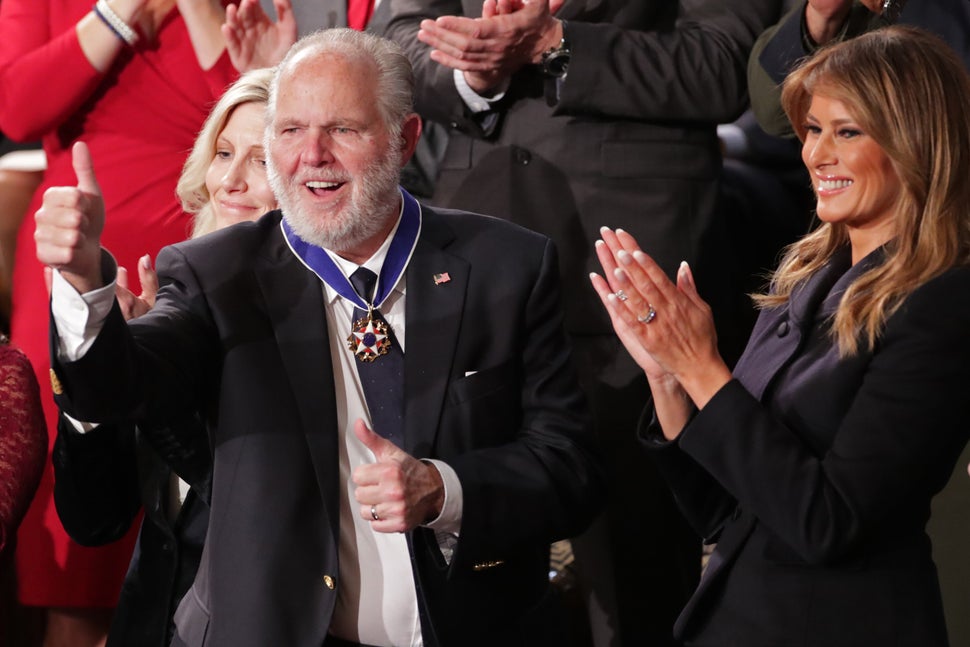 JONATHAN ERNST / REUTERSRush Limbaugh shortly after being awarded the Presidential Medal of Freedom by First Lady Melania Trump during President Donald Trump's State of the Union address in 2020.
The President's Ear
Limbaugh was still the most popular radio host in America by the time of the 2016 election. Although initially supportive of Sen. Ted Cruz (R-Tx.) during the Republican primary, he became a staunch supporter of the eventual nominee, Donald Trump. Limbaugh could be counted on to support the president during some of the most disgraceful episodes of Trump's sole term in the White House.
In 2017 white supremacists, emboldened by Trump's presidency, gathered in Charlottesville, Virginia, for the "Unite The Rally" rally, the largest such gathering in a generation. A neo-Nazi rammed his car into counter-protesters at the rally, killing one person. Trump initially refused to condemn the white supremacists, and Limbaugh swiftly came to the president's defense, blaming anti-racist activists for the violence.
It was part of a pattern for Limbaugh, who repeatedly tried to downplay white supremacists during Trump's four years in the White House, a period of rising far-right terror across the globe. After an avowed white supremacist massacred 51 Muslims inside two New Zealand mosques in 2019, Limbaugh speculated on air that the shooter "may in fact be a leftist" who shot Muslims "to smear" those on the right.
Limbaugh was a close confidant of the president, and he and Trump went golfing together in Florida. The president sometimes called into Limbaugh's radio show, and Limbaugh claimed they spoke on the phone weekly.
Their relationship culminated with Trump awarding Limbaugh the Presidential Medal of Freedom during the State of the Union address in February 2020. In his speech, Trump heralded Limbaugh as "a special man" who has inspired millions of Americans through his "decades of tireless devotion to our country." Limbaugh had announced the day before that he had lung cancer.
The next month, when the coronavirus pandemic began sweeping across the U.S., Limbaugh promoted conspiracy theories about the virus and its death toll. Despite that, Vice President Mike Pence, the head of the White House coronavirus task force, appeared on his show multiple times during this period.
Limbaugh spent his final months on air downplaying the historic pandemic and spreading dangerous medical misinformation, including calling coronavirus "the common cold" and telling listeners "we have to remember that people die every day in America."
On the day Limbaugh died, the coronavirus had killed more than 488,000 Americans.